Term Life Insurance Case Study
Client Profile
Client runs a large international manufacturing plant.
Business is owned by himself and his wife, both are active in the business and hold key positions.
Business would continue upon the death of either owner.
Current total net worth $20 Million+.
Premiums for $7.2 Million of Coverage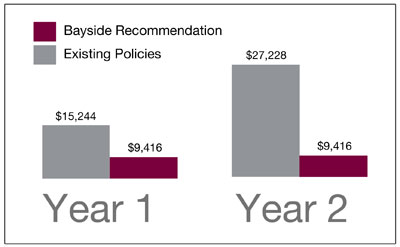 The Bayside Report showed that they were substantially over paying for their existing term insurance coverage.
Without our help the client would have overpaid for their insurance by over $118,000 in just the next 10 years.
Business insurance coverage had not been coordinated with the personal coverage.
Business owner was substantially under insured when compared to current situation and the existing agent had not been in contact with the client for sometime.
Client needed help with an overall estate and tax plan.
Bayside Associated Recomendations
Lowered Life Insurance Premiums - reduced cost by 38% (cost per thousand).
Increased Company owned coverage to levels that will now adequately payout; lines of credit, mortgages and other liabilities. Also it now protects the Company
cash-flow at the passing of the founder or key person.
Helped in the setup of Trust and Estate Plan and recommended several key advisors.
Setup Personal Universal Life Program with coverage on both husband and wife.
This allows for adequate protection personally for either spouse.
Tax sheltering of business profits.
Funds to be accessed later to help fund retirement (if needed).
Death Benefit proceeds to be used to pay building tax liability.